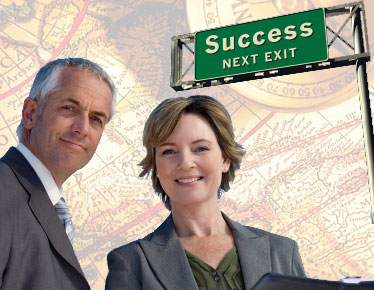 Roadmap to Success:
Business Planning for Real Estate Professionals
A business plan, like a roadmap, is the first step to success for any business. If you don't know where you are going, you are not going to get there. This course provides real estate professionals with proven methods and tools to help you develop a successful guide to achieving your business goals.
Most of us jumped into our business venture or career path because of some type of vision or idea, but few of us take the time to reflect on the details and "what if's" of our choices. As a real estate professional, you are an entrepreneur. At whichever stage you are at in your career, whether just starting out or working as an established broker, you are responsible for the success or failure of your business.
"A client was telling a story of a business that survived a disaster as begin lucky. Luck is not by chance, luck is when preparedness and opportunity meet. Their preparedness saved the business when the opportunity of disaster came knocking on the door." - Joe Travers
This course provides real estate professionals with proven mothods and tools to help them develop a successful guide to achieving their business goals. Some highlights include:
A Business Plan Worksheet that will help you reflect on your accomplishments and focus on your goals for the future
Helpful ideas for defining your real estate business' vision statement and mission statement
Details about identifying your strengths and weaknesses, and setting realistic, attainable goals
A Business Plan Template that you can edit to create your business plan
Instructions on analyzing your sphere of influence and tips for adding contacts to your sphere
Tips on calculating the levels of productivity you will need to meet in order to achieve your income and profitability goals